You can access this Sustainability Report at any time. Download the PDF now
Committed to our people and our communities
Our key social focus areas are to deliver modular solutions that benefit the communities in which we operate, provide a safe and healthy working environment for our more than 4,000 employees around the world, and to foster a diverse and inclusive culture.
Delivering a social benefit
Our modular solutions are used for schools, healthcare facilities, housing and other vital social infrastructure. As we develop new products and solutions, and adapt and reuse existing units, we work closely with our customers and the communities that they support to ensure that we deliver a positive social benefit. Through aligning our approach with the UN SDGs and UNGC, we will be further measuring and reporting on the impact that our solutions have.
...we recognise that providing equality of opportunity, valuing diversity and promoting a culture of inclusion are vital to our success.
Focused on safety
Health and Safety (H&S) is a constant focus at Modulaire Group, and performance is reviewed continually at an operating unit level and monthly at Board, Group Advisory Committee, and Executive Committee meetings. We have dedicated H&S teams throughout the business, embedding our Group strategy at a local level, delivering improvement programmes, and promoting our safety culture. Our H&S strategy is based on the following:
Active and visible safety leadership from the CEO downwards with management setting the example
Real, daily change to our people's behaviour, and prompt correction of any unsafe act or situation, and praise for safe actions
Risk analysis and assessment for every activity we undertake
Definition of clear and pragmatic standards, with input taken from colleagues locally and implementation adapted to the local environment
Regular reinforcement communication and dialogue between operators and managers
In-depth incident investigation of events, including first aid and near miss incidents
Applying lessons learnt as part of our continuous improvement
Identifying and sharing good practices and, when needed, following disciplinary processes.
Fostering an inclusive culture
With more than 4,000 employees from across the world, we recognise that providing equality of opportunity, valuing diversity and promoting a culture of inclusion are vital to our success. We aim to reflect the diversity of the regional, national, and international communities where we deliver solutions and provide an environment where people can be free to be themselves, no matter what their identity or background. Our goal is to create a culture where everyone can reach their fullest potential.
Our Equality, Diversity and Inclusion policy underpins our commitment to the UNGC Principles and the UN SDGs, and we extend this approach to our customers, suppliers, stakeholders and the communities where we operate.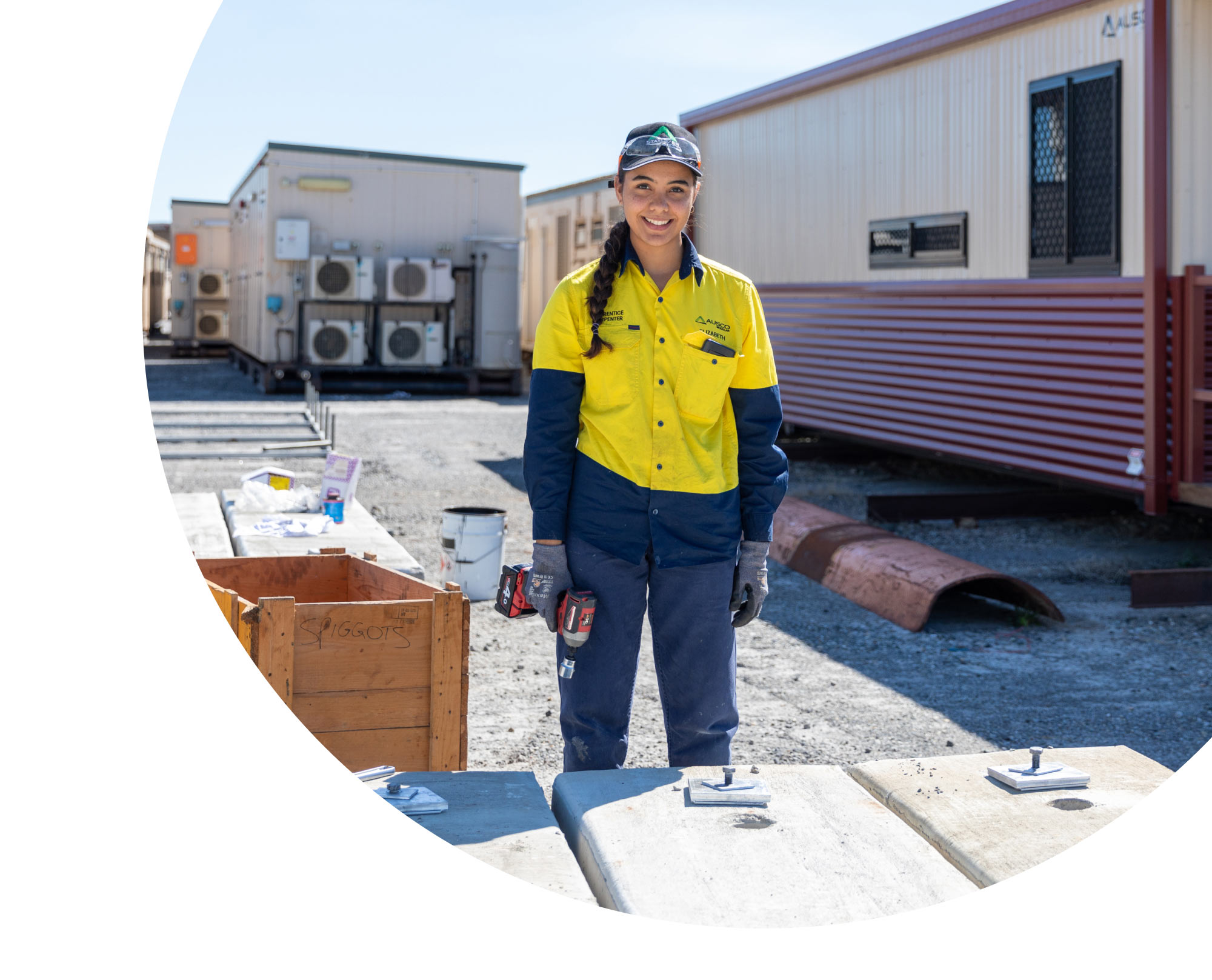 Diversity in action
Diversity is fundamental to our work and to our future, and we constantly look for new perspectives to drive our performance and growth. It is our duty to provide an inclusive and fair workplace, where our colleagues, no matter their background, are given the opportunity to contribute.
We continue to learn from the excellent people practices in place across our markets and are actively driving 'bottom-up' communications to ensure successful measures at individual offices and business units can be adopted Group-wide.
A testament to the many benefits of a diverse workforce is Elisabeth, who started with Ausco on a school-based 'work experience' programme in 2019 to learn about carpentry from our qualified carpenters in the Townsville factory, Queensland.
In November 2019, Elisabeth was formally employed by Ausco as a 1st Year Apprentice Carpenter in our Townsville factory and commenced her Certificate III in Carpentry with TAFE Queensland (funded and supported by Ausco). Elisabeth then went on to win the North Queensland School Based Apprentice of the Year 2020. She was also awarded the Gold Level Award for "Emerging Indigenous Leader" from St Margret Marys Girls School Townsville upon her graduation.
Elisabeth's progression in a traditionally male-dominated industry, as an indigenous woman, evidences the potential to make a significant difference, and we will continue to promote the many rewarding careers there are in our industry for all groups.